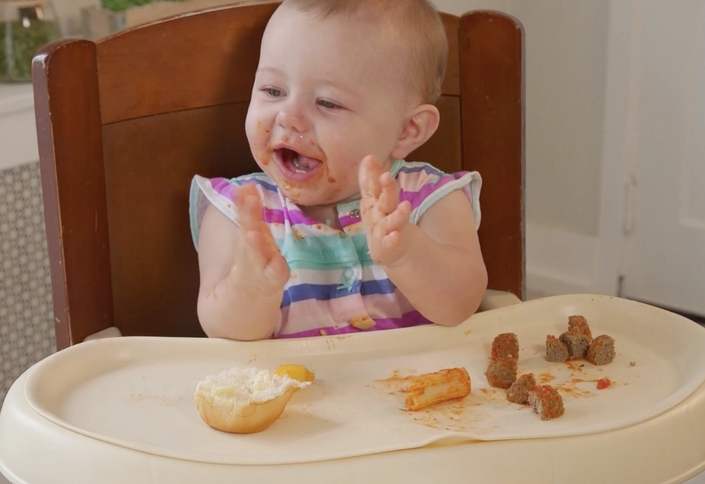 [Bundle] Infant Feeding Program - The Whole First Year
First Year: Stress Free Feeding for Happy Healthy Babies
Watch Promo
Enroll in Course
With these 4 quick videos, you'll feel confident and less stressed about feeding your baby. And, when you buy the bundle, you get information for the whole first year.
This program is for you if you want to take the frustration out of feeding your infant. I will walk with you in your journey throughout the whole first year feeding your infant!
No matter what questions you have - the videos, printable guides and support group will help you feel less stress and more confident feeding your baby. The best part - you will raise a baby who does a good job eating!
Video #1 - Newborns
The 10 minute training video will include:
How to know how much breast milk or formula your baby needs
Whether your baby is bigger or smaller than other babies - you will know exactly how much you should feed your infant so they grow well.
How to feed your child so they can learn to be calm and alert
Babies will do best with eating when they can learn to be calm and alert. Sometimes issues around feeding can cause the baby to struggle in this area and this can cause issues around them taking in enough. You will learn how to listen to your baby and help them to eat what they need.
Establishing a trusting feeding relationship
Babies and parents who are able to feel calm while feeding their babies have babies that do much better will feeding. There are several techniques you will learn about so you can feel less stress around feeding your infant.
Understanding how developmental milestones affect how well your baby eats
Your baby goes through 3 different developmental milestones in their first year alone. Two of them occur in the first 4 months. They effect how your baby will eat - understanding these milestones will help you to feed your baby even better!
In addition, you will receive 6 downloadable handouts to supplement your videos!
Feeding Formula
If you are feeding formula full time or just supplementing - understanding the different types of formula and how to feed formula.
Breastfeeding Preparation
Understanding how to prepare yourself for the breastfeeding experience and tips for once you get started that are unique to the breastfeeding mommas.
Breastfeeding - How Much is Enough
Breastfeeding has unique challenges because it you can't see exactly how much your baby is getting. This can make parents nervous especially in the beginning. This handout will help you to tell your baby is getting enough so you don't stress out.
Handling Bottles
Whether you pump breastmilk or you give formula it's important to clean bottles correctly to prevent bacteria build up. This downloadable will walk you through how to do it right!
Formula Do's and Don'ts
Just like breastfeeding has it's own unique challenges do does formula feeding. You can have a trusting relationship around feeding with your infant formula by following these dos and don'ts around formula feeding.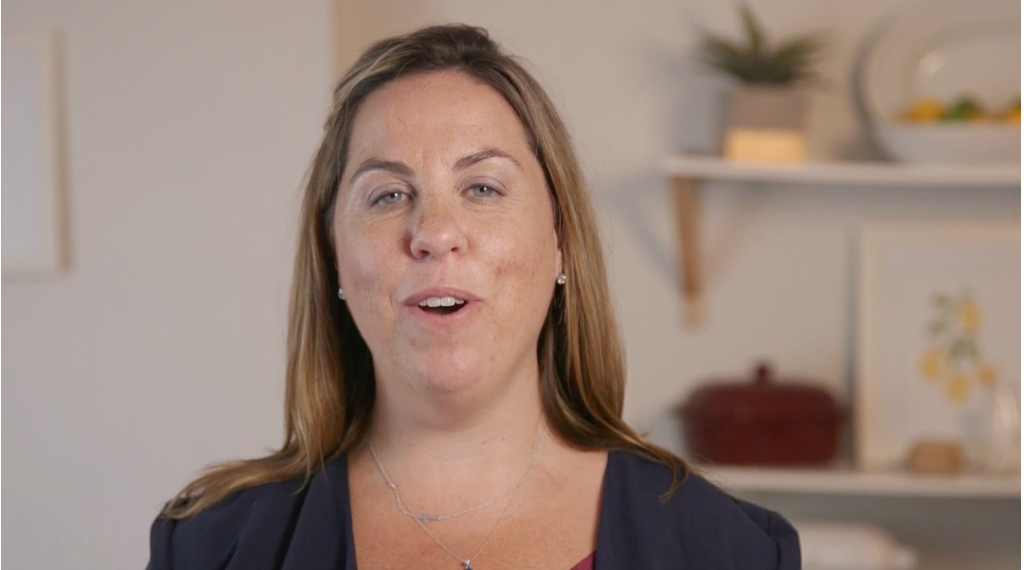 Video #2 - Starting Solids 4-6 Months
The 10 minute training video will include:

How to know you baby is ready for solid foods

The best way to start out your baby learning to love to eat and enjoy the process is to wait until your baby IS ready to eat them. Babies who are aren't ready and feel stress around eating are more likely to struggle with their eating and more likely to have feeding issues (AKA picky eating) later in life.
How to prepare the first foods
There is so much chatter out there about what to serve your infant first. Should you use jar food, homemade baby food, chunks of table foods? What if the answer is as simple as trusting your infant and listening to them what they need and want?
How to know how much to give your baby
There are all kinds of feeding guides out there that tell you how much to feed your infant. However, each baby is so different, some have big appetites while some have small appetites. There is a perfect way I'll discuss to know exactly how much your baby needs!
What foods to serve

Have you ever asked feeding advice in a mommy group. It pains me every time I see a question about feeding because the crazy amount of opinions and mom guilty statements about food makes my skin crawl. My favorite recently was, Don't give cereal it's bad for you baby and has no nutritional value except iron. Um, doesn't iron mean it has nutritional value? Another one I commonly hear, give vegetables first because if you start with fruit they will get addicted to sugar. In this training, I'll give you sound nutrition advice so your baby learns to grow up having a great relationship with ALL foods!
In addition, you will receive 3 downloadable handouts to supplement your videos!
Signs Your Baby Is Ready for Solids Foods
Food Ideas for First Foods
Sippy Cup Recommendations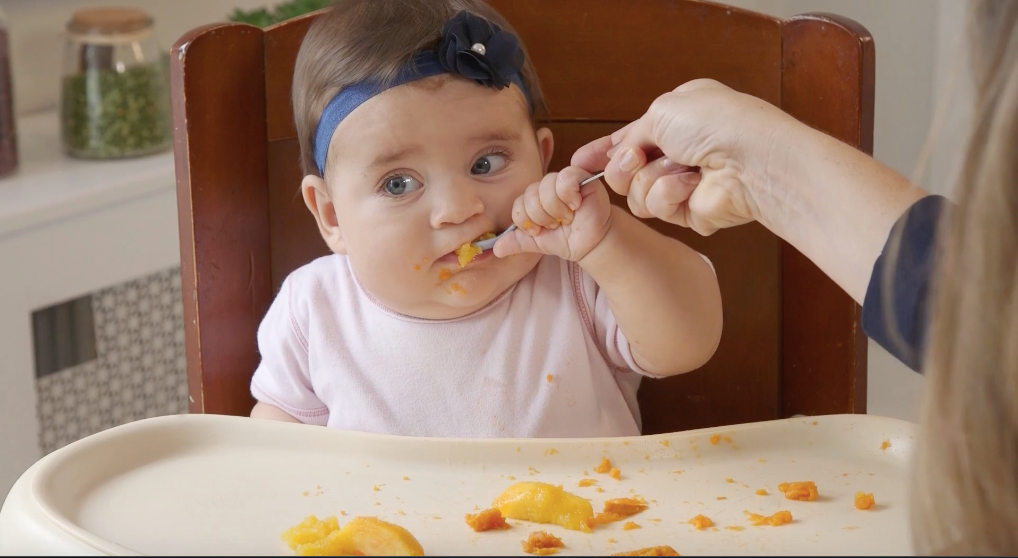 Video #3 - Feeding Your 6-9 Month Old Baby
The 10 minute training video will include:
Learn how to serve chunky foods
It's so hard to know exactly what size pieces to give your older infant. If they are too small they can't pick them up, but will they choke. You will learn exaclty how to cut the foods to the right size and what foods you can use at this stage of the game to allow your older infant to safely explore more textures.
Developmentally appropriate foods
If you want to know why all of sudden food is getting dropped on the floor or they are refusing to let you feed them anymore you will understand this after understanding their developmental age.
Understanding choking versus gagging
Many parents get stuck on puree for longer because the fear their child will choke. However, holding your infant back will get in the way of them eating age appropriate foods. It's really important to learn what gagging versus choking so you can keep your infant safe.
Starting a sippy cup
You know your baby is getting all the fluids they need from the bottle or breast, but you want to know when to start sippy cups and how to go about doing it.
Managing feeding breastmilk and formula with foods
Yes, it is true as your infant is getting older it gets really confusing how much breastmilk or formula they still need when they start eating more food. What happens when they love food and take in less breastmilk or formula?
In addition, you will receive 3 downloadable handouts to supplement your videos!
Chunky Food Tips
These quick and easy tips all on a printable handout you can put on your refrigerator because what mom has time to read a huge book, right? It will give you the signs your baby is ready of the next stage of foods (and no I'm not talking about commercial food stages).
Chunky Food Ideas
Okay, great you are all ready to start feeding food that has more textured, but you are lost with food suggestions. The printable handout will give you lots of examples so your baby gets variety and you both don't get sick of the food!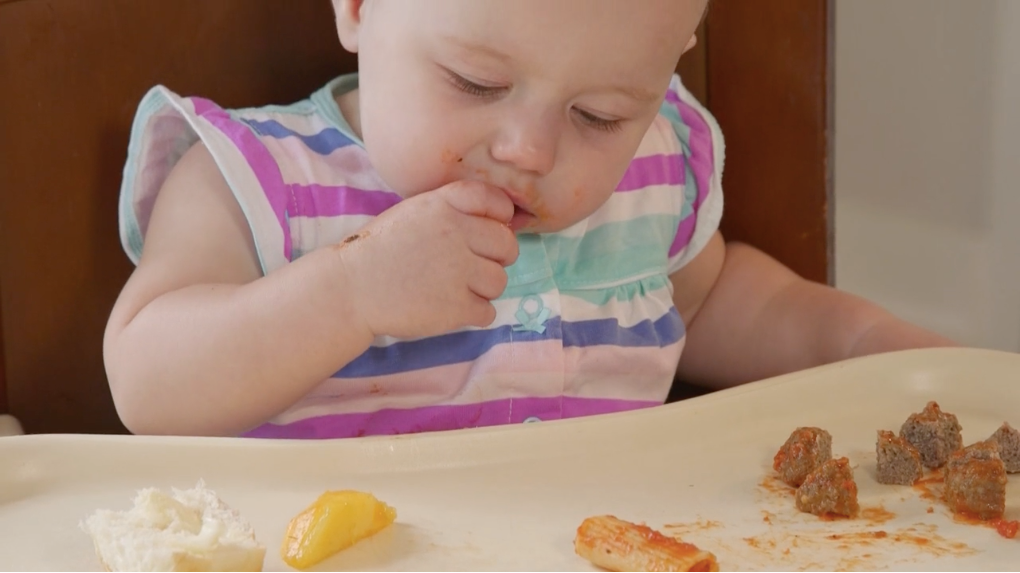 Video #4 - Transitioning to Table Foods
The 10 minute training video will include:
Making Your Baby Part of the Meal
If you've never thought to serve dinner "family style" before and feel like you have to be a be short order cook this video will walk you through the importance of the family meal and how to get started with it. You'll learn exactly what to serve on the table and how to serve it so your baby does a great job!
How to Modify Food for Your Baby
Are you stuck in serving your baby commercial baby foods because you just have no idea what foods they need at this stage of the game? Does it scare the heck out of you to give them table foods for fear of choking and you want to make sure they are safe eating. You will learn how to modify your food for you older infant.
Serving Liquids
Have you heard about the baby that doesn't want to give up the bottle or the parent that can't seem to wean their baby from the breast? You want your baby to seamlessly transition and wean from the breast or bottle when you are ready, but you want them to get enough hydration too. I'll show you how to work on this transition.
Dealing with Feeding Behaviors
Every parents nightmare in the infant who throws the food on the floor, clears their entire plate and/or tray. What about the infant that doesn't want to sit at the table and eat. Or the infant that only wants to eat on food that is served and no other food? I will talk about to have common feeding behaviors and how to handle them.
In addition, you will receive 4 downloadable handouts to supplement your videos!

Table Food Tips

7 days Worth ofBreakfast, Lunch and Dinner Ideas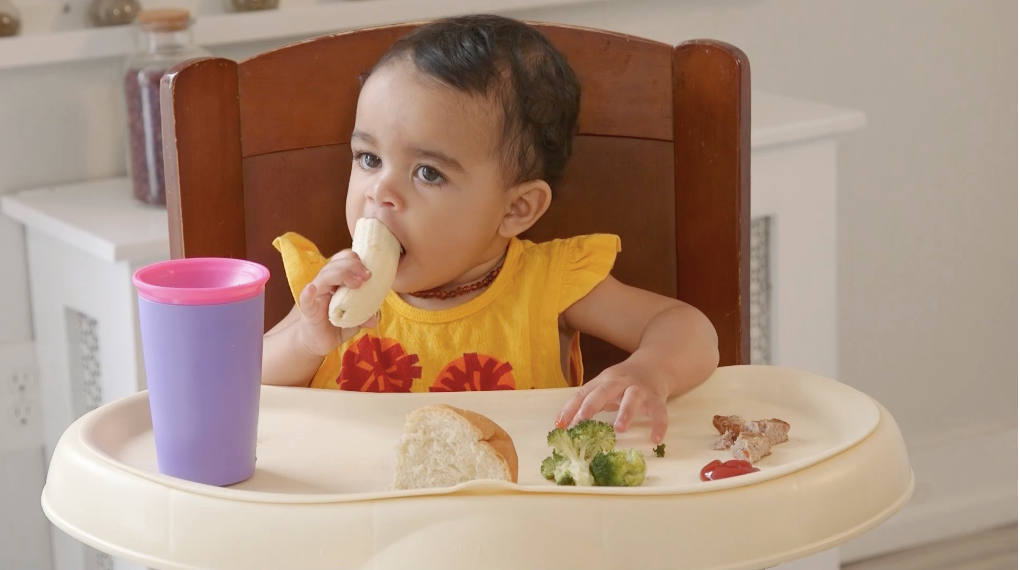 HOW YOUR BABY EATS
You'll know exactly how to tell when your child is ready for the next stage of foods.
You'll understand how much food to feed your baby as well as how to create a healthy relationship with food from the start.
You'll get information on how you can improve the experience of feeding on the whole - for both of you.
SHORT, BREEZY VIDEO LESSONS
I get it - you're too tired to read a book about feeding your baby. That's why I made quick videos that will tell you exactly what you need to know. No more, no less.
INFANT FEEDING PRINTABLES
Aside from the videos, I also provide supplementary guide to show you examples of WHAT to feed your baby.
AT YOUR OWN PACE

After enrollment, course content is released to you immediately so you can watch them all super quickly, or (what I'd recommend) take your time perusing each video in order as that will give you the best experience.
Your Instructor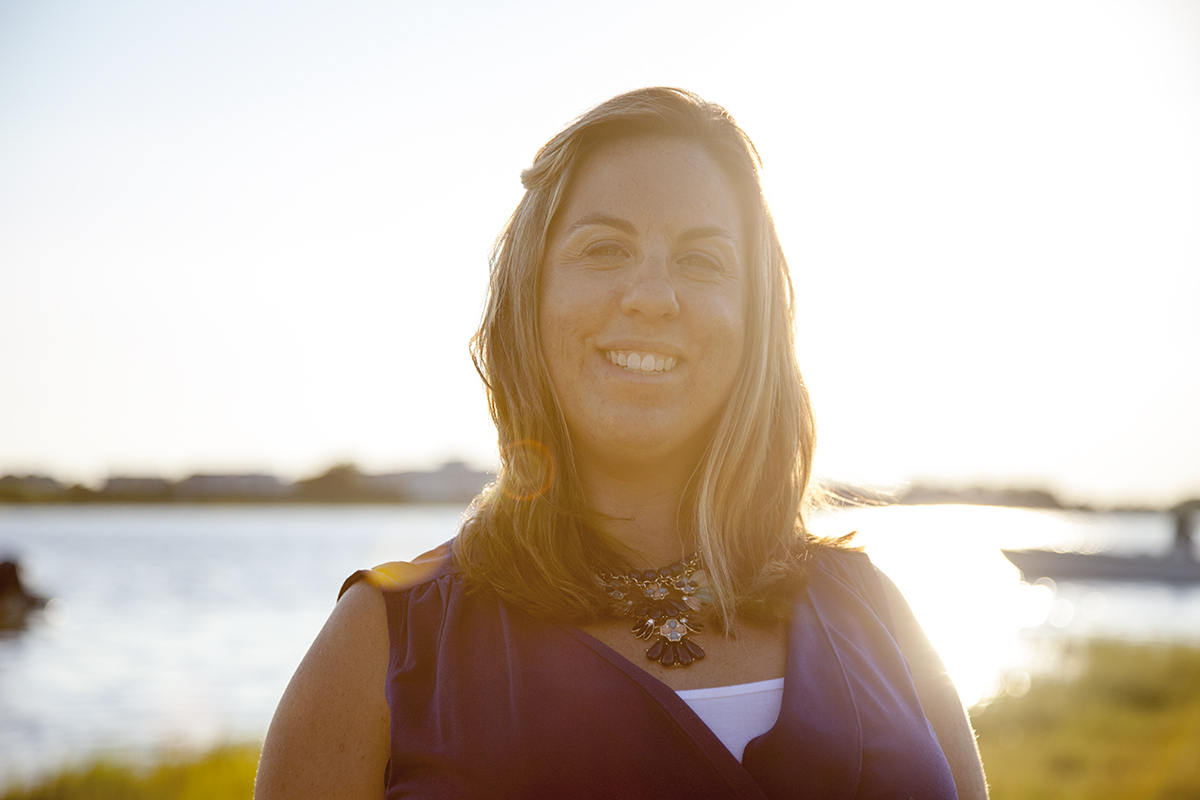 Dana is a Registered Dietitian and Feeding Specialist who helps parents to raise children with a good relationship with food.
Course Curriculum
Feeding Your Newborn
Available in days
days after you enroll
Starting Solids Foods
Available in days
days after you enroll
Starting Chunky Foods
Available in days
days after you enroll
Frequently Asked Questions
When does the course start and finish?
The course starts now and never ends! It is a completely self-paced online course - you decide when you start and when you finish.
How long do I have access to the course?
How does lifetime access sound? After enrolling, you have unlimited access to this course for as long as you like - across any and all devices you own.
What if I am unhappy with the course?
We would never want you to be unhappy! If you are unsatisfied with your purchase, contact us in the first 30 days and we will give you a full refund.